GIS's fundamental strategy elements:
Consolidate our sustainable growth and expansion plans of Auto Parts Segment
Concentrate in taking actions to improve and redirect our businesse in the Housewares Segment, to mitigate the effects of the economic challenges they are facing
Ensure sustainability in all GIS's businesses
Strengths and Innovation
We continuously work in the design, development, innovation and improvement of our products, to support the differentiation of our brands, seeking to increase of market participation every year.
Investment rational
In 2010, the Company took transcending decisions in its Business portfolio and in its operations that have marked GIS's growth path since then, including the first steps towards globalization.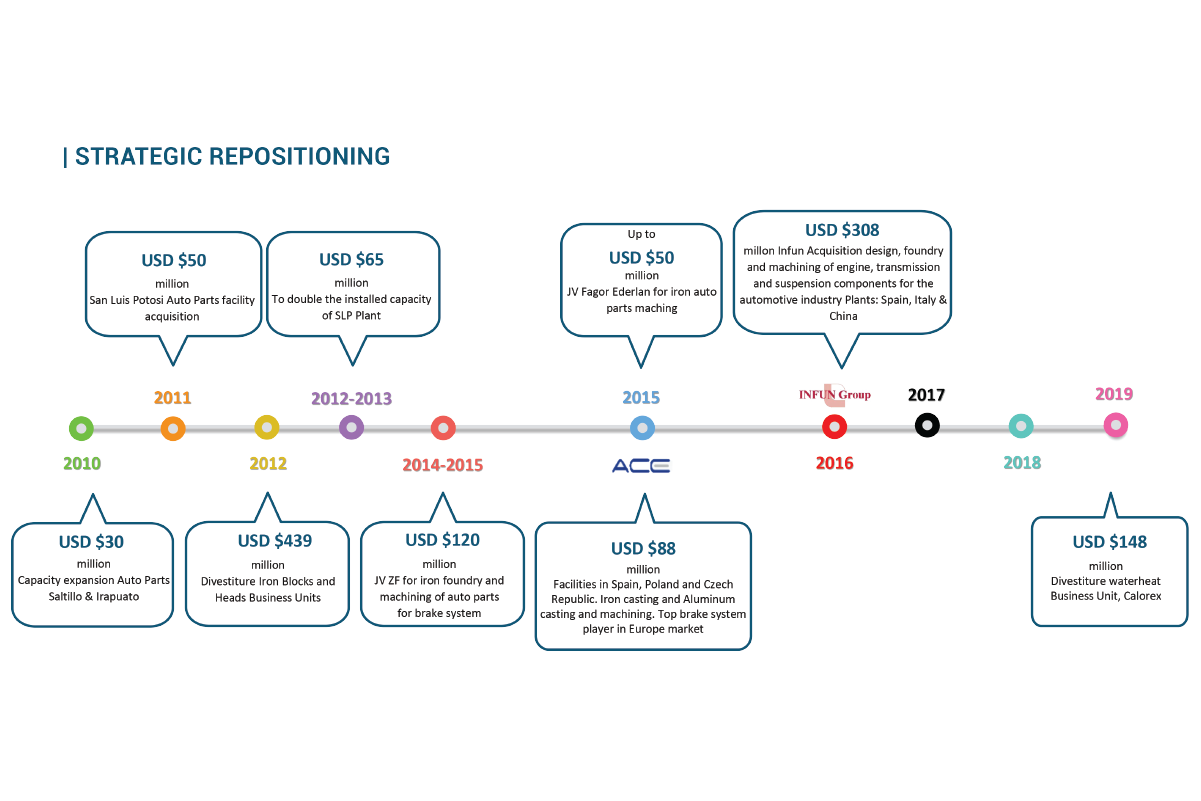 Strategic alliances
The JV with Kelsey Hayes Company, subsidiary of TRW Automotive Holdings (leader in the car parts industry), allows GIS to acquire a strategic partner in order to expand our presence in North American market. TRW will bring to the JV the valuable know-how in precision machining processes (the JV embraces an annual production of around 5 million machined pieces).
Market Penetration
The investments made in the Auto Parts Sector reduce the Company's exposure to NAFTA Market, through diversification into Europe and China, adding new geographies, synergies and a currency balance in cash generation. Also, in the other businesses we expect a greater presence in the North American Market, where they have several sale points.
Sustainable Growth
Through the conscience, best practice integration and evaluation of control systems, we aim for sustainable development:
Certifications and investments: We look for our production plants to have the Clean Industry Certificate and ISO-14001 certification, and make to investments that allow us to control the emissions of pollutants agents (such as the dust collection systems newly installed in our plant in Saltillo)
Responsible use: we strive to generate savings in electricity consumption, by applying strategies designed by technical committees in our plants
Environmental management: GIS implemented an administration methodology based on processes, integrating all environmental management systems
Operational strength
In order to maximize the profit margins for our shareholders, we execute the following business strategies:
Rearrange of business portfolio for the auto parts sector; to grow profitably in the iron foundry business focused on the service of auto parts, heavy trucks, domestic appliances and railroads industries, in North America
Expansion of our installed capacity within world-class operating standards
Upgrading our technology platform to offer an accurate service
Application of the Inclusive Continuous Improvement Program to develop our business lines under a "lean" business model based on the development of self-directed human resources and focused on sustained improving operations, processes, and products and services design